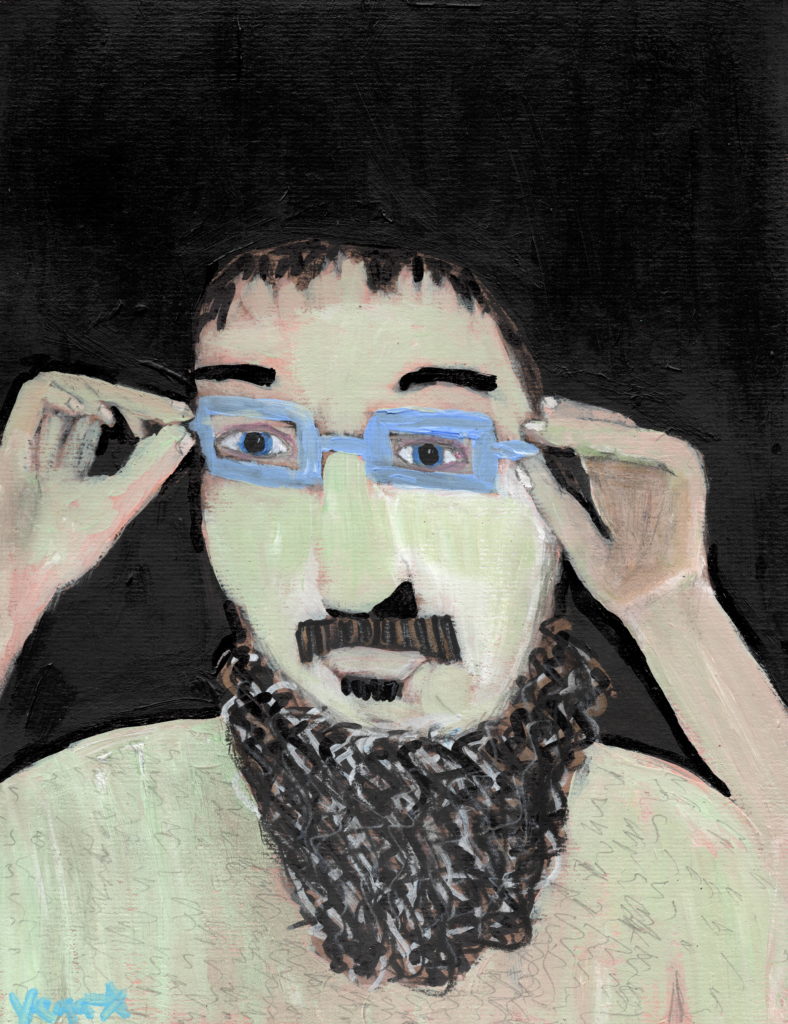 "Who Does Your Hair 4" – Vega Darling (2020)
Vega Darling is an independent filmmaker, event producer, and community organizer. Darling's film work has been screened at London's East End Film Festival, Los Angeles Punk Film Festival, Orange County Museum of Modern Art, San Francisco's Yerba Buena Center, Philadelphia's Vox Popoli, Miller Gallery at Carnegie-Mellon University, Grrrls on Film at Loyola Marymount University, among others. Alternative Press named Darling's short film, Lost Grrrls: Riot Grrrl in Los Angeles (2016), one of "25 films that capture punk, riot grrrl, and beyond." Dazed Digital named Lost Grrrls an "essential riot grrrl film."
Punk rock, DIY, and community organizing built the foundation for developing Darling's innovative films, programming and events. Darling co-founded Atlanta Riot Grrrl in the mid-'90s, curated countless punk shows, events, and festivals, managed the first riot grrrl/queercore band out of the American South (Pagan Holiday) and wrote numerous zines in the '90s and early 2000s. Darling keynoted Ladyfest Los Angeles 2013. In 2016, he produced the DIY GRRRL series zine, music video compilation, and compilation album.
Darling's film works share the intersecting subversive themes of queerness, transness, feminism, and punk rock. He directed, produced, and edited Lost Grrrls: Riot Grrrl In Los Angeles (2016). Lost Grrrls was awarded the University of California, Irvine Undergraduate Research Opportunity grant and selected to present at UC Irvine's prestigious Undergraduate Research Symposium and the inaugural Women's Empowerment Initiative Research Symposium, and invited back to campus for an alumni screening of the film. 
Darling co-directed An Excerpt From the Forthcoming Documentary, GRRRL (2013) aka Grrrl aka GRRRL Short, a short documentary film installation commissioned for the first major art exhibition on riot grrrl — Alien She, curated by Astria Suparak and Ceci Moss. In 2012, Darling collected first-hand data on riot grrrl via survey for 6 months. From 2013-2016, Alien She exhibited the GRRRL short as well as a world map of riot grrrl chapters (26 countries, 34 US states) that incorporated Darling's research, alongside data collected by Astria Suparak, Ceci Moss, and Sara Marcus author of Girls to the Front: The True Story of the Riot Grrrl Revolution. 
Darling art directed the film adaptation of the punk rock dystopian novel, Godspeed (2007) by Lynn Breedlove (singer for queercore bands Tribe 8 and Homobiles). Darling also worked on Cary Cronenwett's 2009 film Maggots and Men, a creative reimagining of the 1921 Kronstadt rebellion, and the experimental film adaptation of Michelle Tea's quintessential novel about the lesbian-punk scene of 1990's San Francisco Mission District, Valencia (2013). 
More recently, Darling provided music supervision and associate produced the queer BIPOC riot grrrl mockumentary film Vulveeta (expected release date Summer 2022). Darling is currently wrapping up production on his feature-length documentary, GRRRL: 25 Years of Riot Grrrl (expected release in early 2023). GRRRL is supported by SIMA Studios.  
Darling has been a community organizer and event producer since his early teens. Darling uses a consumer-focused approach to curate and produce innovative events for the public. He has worked with Atlanta Pride as the Programs and Partnerships Manager, South Georgia Pride as the Director of Sponsorships, Atlanta Trans Day of Remembrance as the Board Secretary, Newport Beach Film Festival in community partnerships and festival programming, Mondo Homo Festival as an original festival planner and event consultant, Bay Area and other Ladyfests as an organizer and consultant, Long Beach Trans Day of Remembrance as an organizer, Gender Reel Film Festivals as the Creative Director well as event producer for festivals in Long Beach and Oakland, TransYouth Family Allies as the scheduling coordinator and trans educator, Philadelphia Alliance for Labor Support as a collective member and birth doula, and the Philadelphia Trans Wellness Conference as the Programming Chair where he designed and implemented the first-of-its-kind Trans Youth and Family conference programming. Darling consults and leads workshops on various topics around serving and navigating the LGBTQ community, DIY filmmaking, documentary film techniques, and feminism in punk rock. 
Darling is an M.F.A candidate in Social Documentation at the University of California, Santa Cruz, and is an alumnus of the University of California, Irvine with a double B.A. in Psychology and Social Behavior, and Film and Media Studies. He loves pugs and punk. Vega Darling hails from the Dirty South via the Midwest but calls the San Francisco Bay Area home.